It's been awhile since I've participated in Vintage Thingies Thursday! I recently re-found (you know those boxes of clutter in your house?) this Baby's First Book by Golden books and I just had to share. I remember when hubby and I first saw saw this book and we remarked at how much the baby in the book resembled our daughter Lucy. It was uncanny! To the right is Lucy at 9 months old.

This book is so neat because it has wipeable pages that are drool and chew-proof. I wish they made more of these types of books nowadays. Also the sweet little details of the book make it so enjoyable to read and look at. The book is copyrighted 1960. Here are a few pages from the Golden book "Baby Listens" by Eloise Wilkin:


Look at that mixer! Does anyone know what brand of mixer that might be? This is by far my favorite page in the book.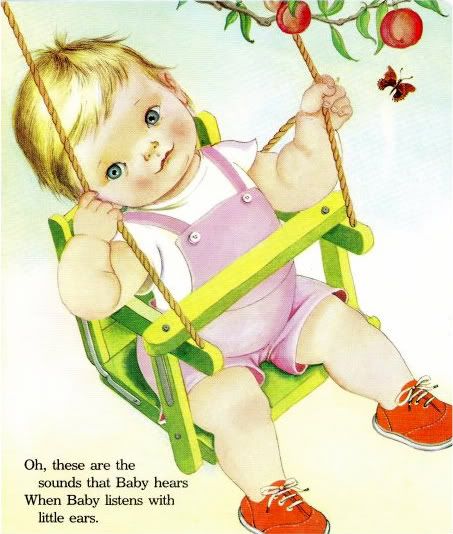 This is the last page of the book. Doesn't it resemble my little Lucy?
Thanks for visiting my blog and be sure to check out other Vintage Thingies Thursday at
Coloradolady's
blog.