I am so proud of my first meal in the One Local Summer challenge! I made Super-Slow-Roasted Beef with a local vegetable medley, locally baked rolls and a garden fresh (literally) salad.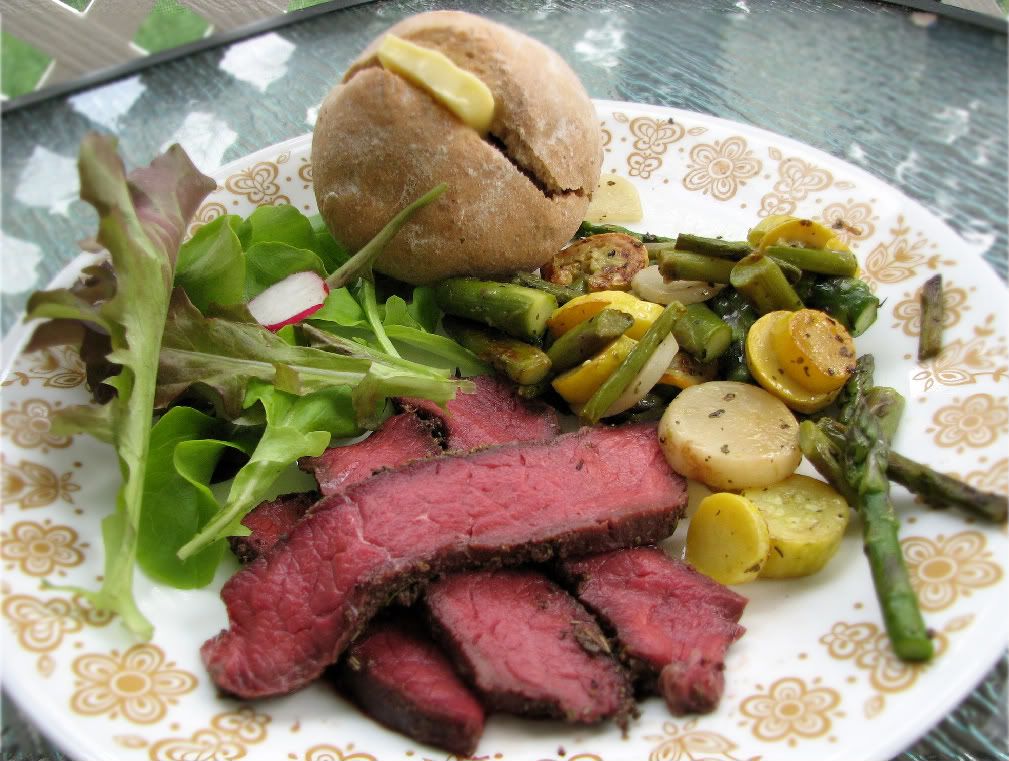 I started off with a top round steak from Outlaw Farm (available at a few local markets and at their farm). My original intention was to make the asparagus/beef stir fry we learned how to make at the
"Nourishing Your Family From the Inside Out" cooking class
a few weeks ago, but it contained red pepper and onion which isn't in season yet. I did blanch and freeze some local asparagus, so hopefully I can make this meal next month!
Ok, so here's how I cooked the steak. I applied a garlic-herb dry rub to the thawed steak. I loosely wrapped it in plastic and let it sit out for two hours. I then preheated the oven to 250 degrees and put the steak on a roasting pan for 30 minutes. After 30 minutes I turned the oven down to 170 degrees and cooked it till the internal temperature reached between 120 - 125 degrees F. Because this cut tends to be lean, any more than medium rare can overdo it. As a guide, figure on 1 hour and 10 minutes per pound of meat at 170 degrees F.
Remove the roast from the oven, tent loosely with foil, and let rest for 5 - 10 minutes. Carve into very thin slices to serve. The recipe for the steak and rub comes from
The Grassfed Gourmet Cookbook
. (It seems like the 2nd edition version will be released mid-July).
Garlic-Herb Rub
This rub works well on pork, lamb, veal, venison, goat, or beef.
1 T dried thyme
1 T dried rosemary
2 T dried oregano
1 tsp ground fennel
2 tsp garlic powder
1.5 tsp coarse salt
2 tsp freshly ground pepper
For the vegetables, I simply gathered what was available and sauteed them in a bit of olive oil and added a dash of Italian seasoning. I found asparagus down the street on Gear Rd. in Rochester. I don't know if the farm has a name, but there's a small farm stand at the end of their driveway beneath an umbrella. This is also where I bought the rhubarb for the dessert I'll share with you. I picked up a bunch of turnips at the Dover Farmers' Market as well as three little summer squash (that was a treat!). This mix was very tasty and such an easy way to prepare vegetables. (Even my kids tasted a bit of the medley!) I also gathered a bit of lettuce and one lonely radish for a small side salad.
The rolls aren't exactly local as there's no source of local flour, but it is from the King Arthur Flour company in Vermont so it has a few local ties. The wheat rolls are from the Dover Farmers' Market and baked by
Forty Five Market Street Bakery and Cafè. Very tasty with Kate's Homemade Butter out of O
ld Orchard Beach, Maine (can be found in many New England grocery stores).
And what meal isn't complete without dessert? I put
Rhubarb Crunch
in the oven when I pulled the meat out, so it was hot and ready after dinner was done. Another very tasty way to use rhubarb without any other fruit (because strawberries aren't quite in season, yet). I loved the simplicity of this recipe (again made with Kate's Homemade Butter) and it tasted delicious! The perfect end to a perfect meal.
1 cup white sugar
3 tablespoons all-purpose flour
1 cup packed light brown sugar
1 cup quick cooking oats
1 1/2 cups all-purpose flour
1 cup butter
Preheat oven to 375 degrees F. Lightly grease a 9x13 inch baking dish.
In a large mixing bowl combine rhubarb, white sugar, and 3 tablespoons flour. Stir well and spread evenly into baking dish. Set aside.
In a large mixing bowl combine brown sugar, oats, and 1 1/2 cups flour. Stir well then cut in butter or margarine until mixture is crumbly. Sprinkle mixture over rhubarb layer.
Bake in preheated oven for 40 minutes. Serve hot or cold.
I also halved this recipe since it was just two adults, two kids eating it and only a cooler to store leftovers. I baked it in an 8x8 pan and it was just as tasty!
I hope this inspires some more local meals. A local meal doesn't have to be overly fancy! Happy cooking...