This Vintage Thingies Thursday I'm showcasing some of the vintage pieces I've picked up at the yard sales I've visited in the past few weeks. I absolutely love browsing yard sales. My dad always said he wanted a bumper sticker that said "I Brake For Yard Sales" and I've totally followed in his footsteps! I see that neon colored yard sale sign and my car is whipping a u-turn in the blink of an eye. Anyone else a die-hard yard sale person? I know I'm not alone!

So here's what I've found in the past few weeks:

10¢ measuring vase. "Italy" written on the bottom, six sides for rice, sugar, flour, mL, fl. oz., and cups. Rice, sugar, and flour are all written in 3 languages. (Blue paper inside to try to show off the markings, didn't work well!) Picture doesn't do this piece justice...

Pyrex container. Air tight seal. $1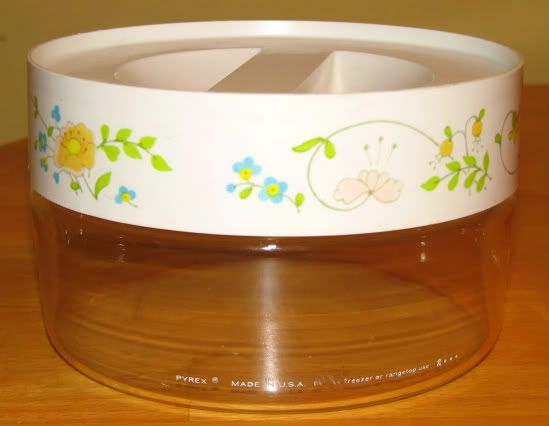 Gemco sugar and creamer set (50¢ total). Green votive for size comparison. I think I'll put maple syrup in the creamer.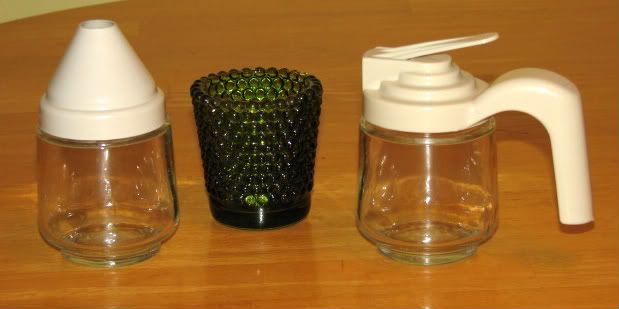 Anchor Hocking 3-piece Avocado Chip & Dip Set. Like new condition with original box. $3

Pristine Autumn Harvest 1.5 pint casserole dish. $2 (This is the third and last pattern I collect. The other two are Spring Blossom and Butterfly Gold).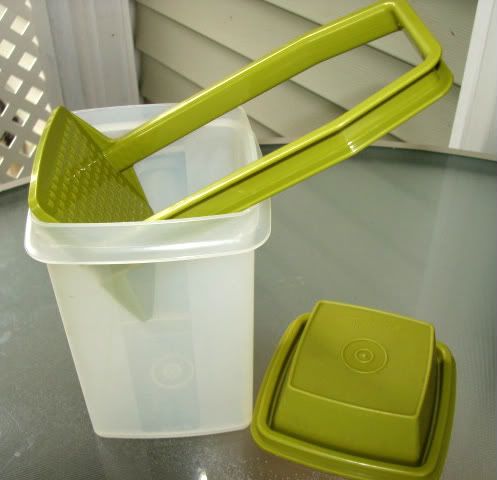 I also snagged a large pot with a canning rack for $2 and 13 jelly jars with rings for $3. I can't wait to start canning!

For more Vintage Thingies Thursday posts, be sure to check out
Coloradolady's
blog.