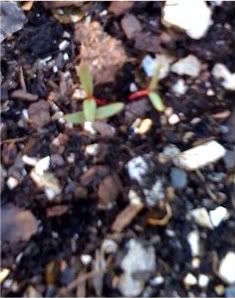 I am over the moon right now! My garden is sprouting! I took a risk and planted just a bit of Swiss chard and peas back on March 17th. And sure enough, it's popping out of the garden! Today I planted more chard and peas as well as (purple) carrots, beets, radishes, lettuce, and tended to my one little wintered kale.

Before I got to gardening though, I spent the day be-bopping around NH. I started the morning at the last Seacoast Eat Local Winter Farmers' Market in Exeter. I love seeing all my friends at the markets! I picked up a nice lunch of potato hash from White Heron Tea. (Check out Warren Farm's blog about their experience at the market today and what Amy is pondering and an update on her homesteading life.) Now we can officially move on to the spring and summer markets! Can't believe summer is on our doorstep...


After the market I zipped up to the
Made in NH Expo
. What a fun time that was! There were so many food samples and lovely products to browse. I purchased some spice mixes from
Camp Mix
, one of which is a mix of granulated honey, brown sugar, and cinnamon. I can't wait to try it on my oatmeal... I also picked up this really neat ceramic grater for garlic, nutmeg, cheese etc. Hope it works well (it did during the demo)! The last thing I snagged was the new SPF 30 sunscreen/bug repellent from
Badger Balms
. This sunscreen is highly rated by the
Environmental Working Group
.
The
Made in NH Expo
will be open Sunday from 10 am - 4 pm.
The last stop of the day was the
A Market Natural Foods Store
in Manchester. It was my first time there and it was quite a lovely store. They had a very thorough selection of natural and organic products. If you're in the area, be sure to check them out.
Oh, I have a gluten-free product review coming up for you! Should be up within the next week, be sure to stop on back here!