I was inspired this morning and took the kids berry picking at Butternut Farm in Farmington, NH. We hit the patch early and brought home just over 5 lbs. of strawberries. I had a few recipes I wanted to try out...one being none other than Strawberry Shortcake.

I found this recipe on another blog, but it comes from one of Alice Walters' amazing cookbooks, The Art of Simple Food
. I had extra heavy cream leftover from another strawberry concoction, so this recipe, with it's cream biscuits, worked out perfectly. After I mixed the strawberries and sugar, my dear husband announced he didn't really care for strawberry shortcake. I thought this man would eat anything on the dessert menu! I pushed on, a bit dejected, but out to prove to him that 100% homemade strawberry shortcake was really, really good! I succeeded! He said it was really, really tasty and coming from someone who said they don't like shortcake, it meant alot! I bet you're dying for the recipe...alright, here it is!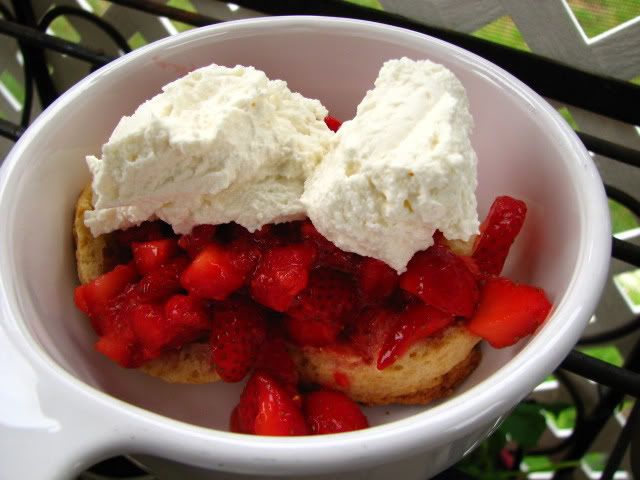 Strawberry Shortcake
Adapted from Alice Waters'
"The Art of Simple Food"
Makes 6
4 cups strawberries, hulled and sliced
1/4 cup sugar
Topping:
1 cup heavy cream
1/2 teaspoon vanilla extract
1 tablespoon sugar, or to taste
Cream Biscuits:
1 1/2 cups all-purpose flour
1/4 teaspoon salt
4 teaspoons sugar (optional)
2 teaspoons baking powder
6 tablespoons (3/4 stick) cold butter, cut into small pieces
3/4 cup heavy cream
Prepare strawberries:
1. In a medium bowl, combine the strawberries and sugar.
2. Remove 1 cup of the strawberry mixture, and purée it in a blender or food processor. Return the purée to the rest of the strawberries; stir. Set aside at least 15 minutes.
Make biscuits:
1. Preheat the oven to 400 degrees F.
2. In a large bowl, combine the flour, salt, sugar (if using) and baking powder.
3. Cut the butter into the flour with a pastry blender or your fingertips. The pieces should be the size of small peas.
4. Measure cream; set aside 1 tablespoon. Add the remaining cream to the flour, and stir with a fork until the mixture just comes together. Lightly knead the dough a few times in the bowl, turn it out onto a lightly floured board, and roll out about 3/4 inch thick.
5. Cut six 2-inch circles or squares out of the dough.
6. Place the biscuits on a baking sheet lined with parchment, and brush the tops with the tablespoon of cream. (I put them directly on a cookie sheet and they were fine).
7. Bake for 17 minutes or until golden and done.
Prepare whipped topping:
1. In a standing mixer with the whisk attachment, whip together the cream, vanilla and sugar until it starts to form soft peaks.
Assemble:
4. Slice the biscuits in half. For each biscuit, spoon the strawberry mixture onto the bottom half, and add a dollop of whipped cream. Top with the other biscuit half, and dust it with powdered sugar.
It doesn't have to look pretty once it's in the bowl, it's the taste that counts! Hope you enjoy as much as we did!