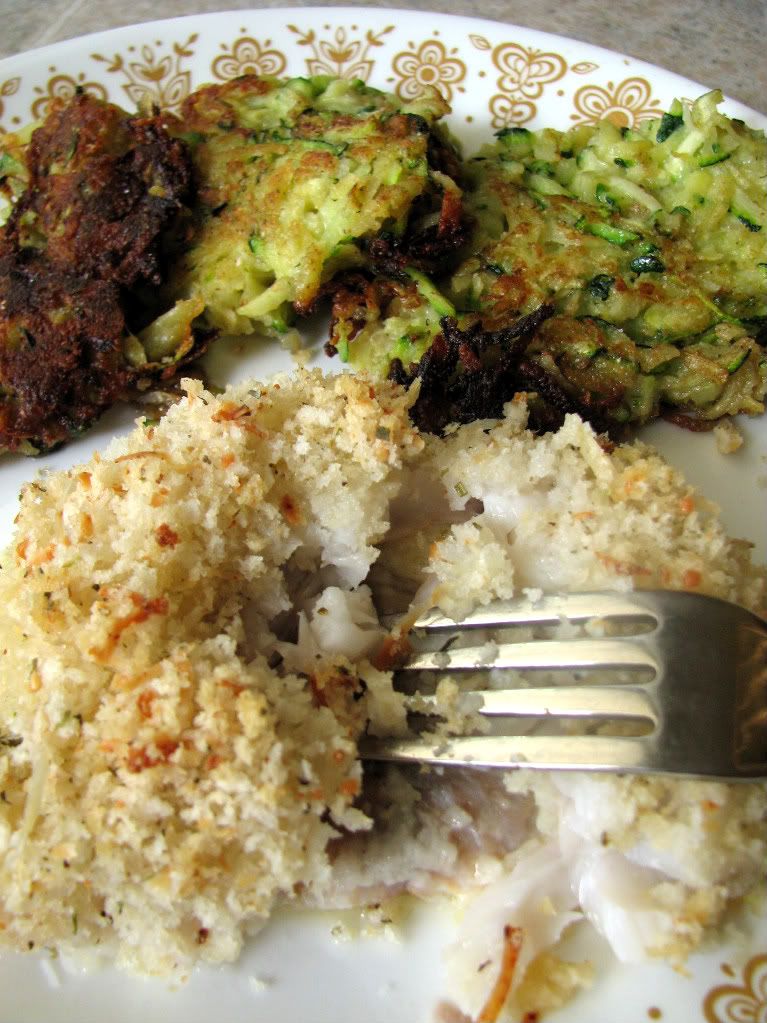 I picked up my Eastman's CSF from
Lasting Legacy Farm
today and on the menu was hake! Steve and I have never had hake, but read it was much like cod. That worked for us. I used the recipe that
Eastman's Fish
sent along and it turned out delicious!
For a side I shredded up some zucchini, onion, and potato and made some veggie pancakes. I pulled from a few different recipes, so nothing to post here. I do want to point out an awesome recipe resource though.
Food Blog Search
is a great tool to use when you're looking for a recipe. I love browsing blogs for recipes and scanning the comments for tips and tricks. That's where I learned I can fudge the pancake recipe and use no eggs since I had none on hand. Check it out, maybe you'll love it as much as me! Onto your hake recipe for today!
1/2 c. butter
2/3 c. crushed Saltine crackers (I used Panko breadcrumbs)
1/4 c. Parmesean cheese
1/2 tsp basil
1/2 tsp salt
1/2 tsp oregano
1/4 tsp garlic powder
1 lb. hake fillets (can substitute sole, haddock or cod)
In 13x9 inch pan, melt butter at 350 degrees for 5-7 minutes. Meanwhile, combine crackers, cheese, basil, oregano, salt, and garlic powder. Dip fish in butter then in crumbs. Arrange fish in baking pan. Bake in the center of oven at 350 degrees for 25-30 minutes or until tender. Serve immediately.
Enjoy!