I just wanted to share with you the two new loves in my life. No, I'm not pregnant!

We adopted two cats at Cocheco Valley Humane Society this weekend. They are a 3 year old brother and sister duo named Simba and Nala (not my name choice). My kids love them to pieces, maybe a little too much at times! Haha!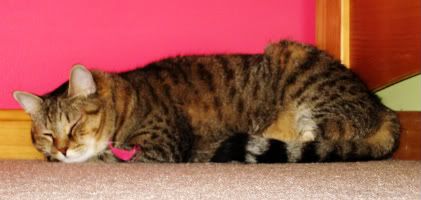 I couldn't pass up these two sweeties. They truly have taken to the house wonderfully and fit right in. They're a joy to have around.

CVHS is offering reduced adoption fees so now a spayed/neutered adult cat (over 1 year) is only $50 ($35 if not spayed/neutered, plus a $50 refundable spay/neuter deposit). And also, a "buy one, get one free" offer. Oh, and CVHS sends you home with a cat carrier, 4 lbs of food per cat, the cat is micro chipped, and your first vet visit is free. That's all included with the adoption fee!

So if you have any space in your home/heart, think about adopting a pet from a local shelter. There's really a large need for loving homes for these pets and CVHS is a great shelter to work with.