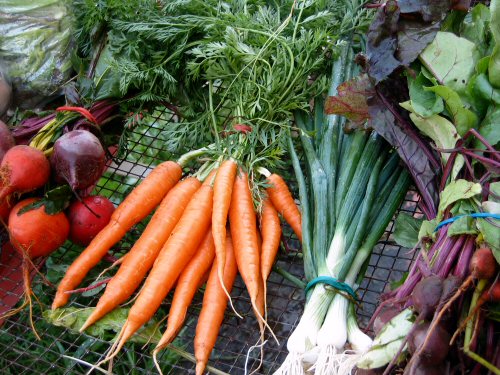 Looking for a smart way to get your veggies this year? Connect directly with a local farm through a CSA (community supported agriculture) share. The following farms still have shares available:

Heron Pond Farm, South Hampton, NH
Shares for Portsmouth and farm stand pick ups. Web site for more information: www.heronpondfarm.com

Sustainable Farm Products LocalMotive CSA
Many pickup locations throughout the seacoast! Website for more information: www.sustainablefarmproducts.com

Andy's Greens, York, ME
Certified organic. Delivery to downtown Portsmouth available. Online credit card payment option. Website for more information: www.andysgreens.com

Two Toad Farm, Lebanon, Maine
Full CSA shares left for the 2009 summer season. Full shares cost $475.00 for 18 weeks and are designed to feed a family of four. Contact: Jordan Pike, 207-252-1103 or www.TwoToadFarm.com

Wild Root Farm, Kennebunk, Maine
Certified organic, horse-powered farm. Carpooling/pick-up sharing to Portsmouth/Kittery area. Website for more information: www.wildrootfarm.com

Meadow's Mirth Farm, Stratham, NH
Certified organic, berry shares available as an add-on. Website for more information: www.meadowsmirth.com

(Thanks Seacoast Eat Local for this information. For other area CSA's see these posts on my blog.)

To see why joining a local CSA is a good idea, check out these reasons!