I am totally sneaking this post in! It's been such a busy week I can only share bits and pieces of a few meals. It's late now and I'm tired, so I'll make this short and sweet.


Beet Green Saute with Bacon and Walnuts
1 T olive oil
1 thick cut bacon slice, chopped
1/2 cup coarsely chopped walnuts (not local)
1 bunch beet greens
Heat oil in a heavy large skillet over medium-low heat. Add bacon; saute until almost crisp, about 6 minutes. Add walnuts; saute 1 minute. Add greens and toss until wilted, but still bright green, 5 to 7 minutes. Season to taste with salt and pepper. Transfer to bowl and serve.
Handful of spinach
Handful of Swiss chard
1 whole egg
2 egg whites
Salt and pepper to taste
Saute greens in olive oil till wilted but still green. Crack egg and egg whites into a bowl and scramble lightly with a fork. Pour eggs over wilted greens. Stir till eggs are fully cooked. Transfer to a plate and season with salt and pepper to tasted.
This meal does not have to be diet. Feel free to use as many whole eggs as you like! Also, I made this an individual size portion since I only had so much greens from my garden.
The strawberries came from
Warren Farm
in Barrington, NH. Be sure to check their
website
for farm stand hours. They also have other greens and hand cut soaps for sale.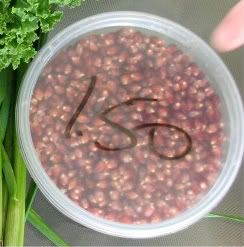 The last local fare I had this week was...popcorn! There's a farm/farm stand on Pickering Rd. at the Dover/Rochester town line (the farm is actually in Rochester). The farm stand is in the big white barn and what's currently available is hanging on the sign out by the road.
They opened for the season last week and I was SO excited to see popcorn for sale! The owner said that this is the season for popcorn because the kernels have to harden over the winter so they will actually pop. So this is last years kernels, all ready for the popping pot. Since it was my first time popping my own popcorn, I relied on this recipe from
Simply Recipes
:
1/3 cup of high quality popcorn kernels
1 3-quart covered saucepan
2 Tbsp or more (to taste) of butter
Salt to taste
1. Heat the oil in a 3-quart saucepan on medium high heat.
2. Put 3 or 4 popcorn kernels into the oil and cover the pan.
3. When the kernels pop, add the rest of the 1/3 cup of popcorn kernels in an even layer. Cover, remove from heat and count 30 seconds. (Count out loud; it's fun to do with kids.) This method first heats the oil to the right temperature, then waiting 30 seconds brings all of the other kernels to a near-popping temperature so that when they are put back on the heat, they all pop at about the same time.
4. Return the pan to the heat. The popcorn should begin popping soon, and all at once. Once the popping starts in earnest, gently shake the pan by moving it back and forth over the burner. Try to keep the lid slightly ajar to let the steam from the popcorn release (the popcorn will be drier and crisper). Once the popping slows to several seconds between pops, remove the pan from the heat, remove the lid, and dump the popcorn immediately into a wide bowl. With this technique, nearly all of the kernels pop and nothing burns.
5. If you are adding butter, you can easily melt it by placing the butter in the now empty, but hot pan.
6. Salt to taste.
Makes 2 quarts, a nice amount for two people, or for one hungry one.
I used
Kate's Homemade Butter
and grocery store salt, but I did just find out that
Elf's Garden Center
on Elm Street in Rochester, NH carries
Maine Sea Salt Company
natural sea salt grinders. I plan to pick a grinder on up soon!
Onto One Local Summer week 4, hopefully this week produces a unique local meal! Have a good week!
Update on the popcorn
...
The farm is actually in Rochester, on the town line with Dover, NH. The name of the farm is Parcell Farm (not posted anywhere on the farm). They are located at 589 Pickering Road.
As for varieties, they do have three kinds available. The red kind that I bought, it's a smaller popcorn with little husk, plus they have white popcorn and yellow popcorn. It's $1.50 for the tub of corn. I forgot to mention that I also bought the beet greens there.
View Larger Map