I made this recipe last year and we inhaled it so fast, it never made it to the blog. I dug up this recipe again this year for Lucy's 5th birthday party. I figured a homemade cake would be 200x better than anything store bought and this cake's taste is to die for! You can either make this a 2-layer cake or it can yield 24 cupcakes as the original recipe title suggests. This recipe comes from this wonderful blog:
Good Things Catered
.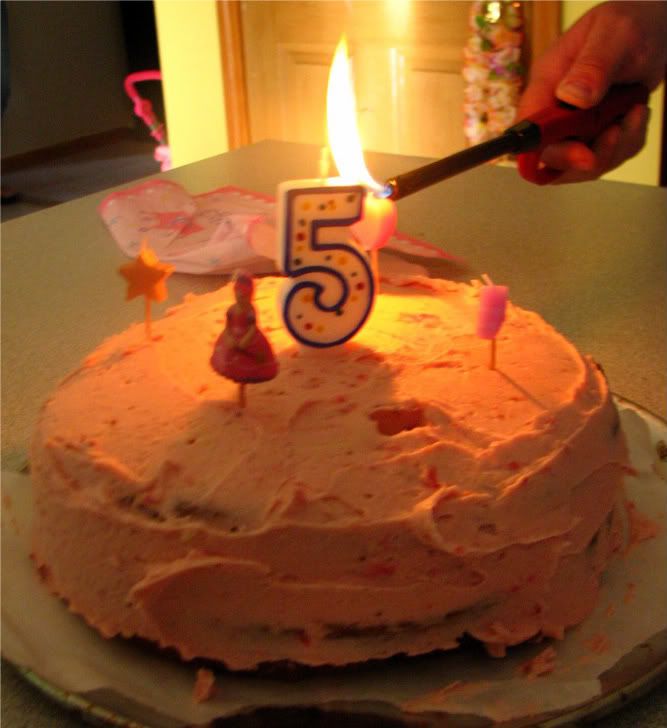 Angie's Famous Strawberry Cupcakes
Ingredients:
Cake:
2 1/2 c. cake flour
1 tsp baking soda
1/4 tsp salt
1/2 c. unsalted butter
1 1/2 c. sugar (or a little less)
2 eggs
1/3 c. buttermilk
1/4 c. oil
1 tsp vanilla extract
2 c. chopped strawberries
Frosting
1/4 c. strawberries
1 Tbsp. strawberry liquor (or strawberry jam)
1/2 tsp lemon juice
8 oz. cream cheese, room temp
1 1/2 sticks unsalted butter, room temp
1 3/4 c. powdered sugar
1/2 Tbsp vanilla
Cake directions:
Preheat oven to 350 degrees and prepare 2 cupcake pans. Sift flour, salt, and baking soda in medium bowl. In bowl of mixer, cream butter and sugar until fluffy. Add eggs one at a time until combined. Add buttermilk, oil and vanilla until combined. Add flour mixture and stir until just combined. Fold in berries. Fill cupcake pans 3/4 way (or fill 2 9-in. greased/floured cake pans). Bake for 20 minutes.
Frosting Directions:
Put berries, liquor, and juice in saucepan. Bring to a boil over medium heat and then reduce to a simmer for 5 mins. Let cool then blend until smooth. In bowl of mixer mix cream cheese and butter until creamy. Add sugar, then vanilla. Add berry puree until smooth. Frost cupcakes when they are completely cooled.
Don't eat all the frosting before the cake gets any!! Enjoy!