I found my new favorite spot to get eggs! Now, I'm a die hard bargain finder and I think I really scored big. Elf's Garden Center off Walnut St. in Rochester, NH has eggs for only $1.95/dozen! I'm sold! It's also a great place for picking up veggies, gifts, jam and jellies, and all your gardening needs.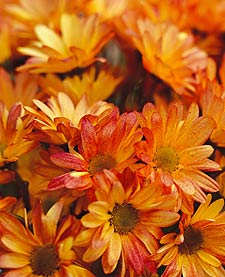 For fall they have 8" mums, 5 for $20. Gorgeous mums too, I plan on picking up my 5 pots this month. It's a great place to bring the kids as well. Their chickens are out for viewing, walking through the greenhouses is just gorgeous, they have a lovely fish pond and alpacas to view!

So take a visit over to Elf's Garden Center and snag some eggs and mums! What a great combination, right?

Oh and I also stopped by the Dover Farmer's Market today. I picked up some garlic and red potatoes from Wake Robin Farm and some green beans that I will be blanching and freezing (can't remember this farm's name!) And the kids and I also picked up our fresh raw milk from Brookford Farm. The little boy that lives at the farm was so nice to give me and the kids a tour of the cows. Oh did Lucy and Evan love that!

And I'm sorry for the lack of posts this week! It's just been crazy lately with the kids. I promise to be back soon and be on the lookout for a new zucchini bread recipe, a black bean soup recipe and a few other goodies. I hope everyone is having a great week!