I mentioned previously that Joe from Yellow House Farm gave Amy of What Did She Do Today? and me a half dozen duck eggs last week. We both had only eaten chicken eggs so this was a new experience for us! Joe told us about how to make fantastic scrambled ducks eggs and I figured I'd share the process with you. And before I begin, I'll say that these eggs were very delicious and my kids gobbled them up. So when you have a chance to buy duck eggs from Yellow House Farm, give them a try! Ok here we go...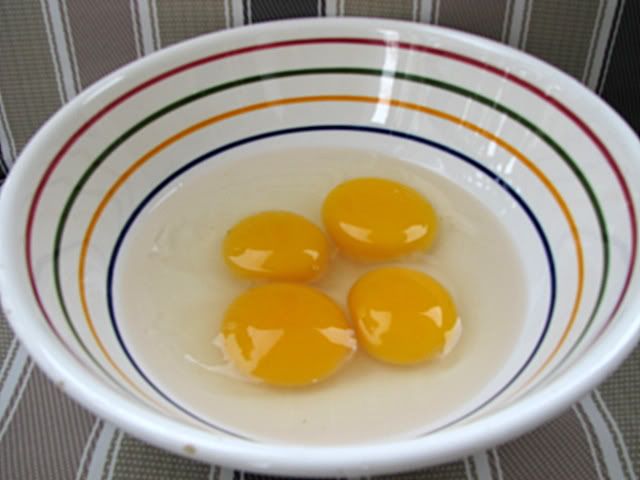 Y
ellow House Farm Scrambled Duck Eggs

4 duck eggs
Handful of Romano cheese
Pat of butter
Salt and pepper

Melt butter in a skillet over medium heat. Crack 4 eggs into a bowl. Scramble eggs with a fork and add your handful of Romano cheese. Pour eggs into skillet and keep moving gently until finished cooking. Add salt and pepper to taste. And as Joe would say...Buon Appetito!
I made some toast to go with the eggs. I put "Grandma's Own" homemade Concord grape jam on the kids toast. I bought this jam from the Rock Op Co-op in Brentwood. You can join the Yahoo Group through the link in the left hand column You could also put
homemade strawberry jam
on top too. Yum! And definitely don't forget the cutesy kiddie plate...it really adds to the beauty!