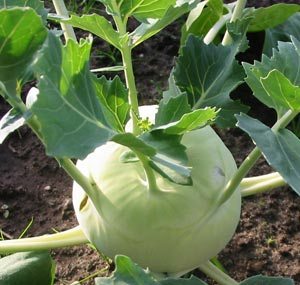 One of my goals this season was to buy and make something with kohlrabi. You know, that space satellite looking vegetable we all try to pass by quickly at the markets.

I purchased my 3 kohlrabi from Abby Wiggin of Wake Robin Farm at the Dover Farmers' Market. You can eat the leaves if you want, but mine were a bit limp so I donated them to our compost bin.

Here are some basic storage tips from the From Asparagus to Zucchini
cookbook I picked up at the North Berwick Farmers' Market:

Store kohlrabi glove and leaves separately. The globe will last for 1 month in a plastic bag. Wrap leaves in a damp towel or place in a plastic bag and keep in a hydrator drawer. Use greens as soon as possible.
I decided to make a slaw with my kohlrabi since
kohl
means "cabbage" and
rabi
means "turnip" so it seemed like the perfect fit for a slaw. My recipe came from Kathryn Hill at
the kitchn
and I added my own twist.
Kohlrabi Slaw
3 medium kohlrabi, peeled, stems trimmed off, grated
1/3 cabbage, shredded or one small cabbage
2 carrots, grated
Radish to taste
1/2 onion, grated
1/4 cup golden raisins
1 tbsp sugar
1 tsp salt
1 tbsp cider vinegar
4 tbsp chopped cilantro
1/4 cup mayonnaise (or more, if you prefer)
Combine all ingredients in a bowl and mix well. Chill for several hours before serving.
Here's where my ingredients came from:
Kohlrabi & cabbage - Wake Robin Farm
Carrots - Parcell Farm
Cilantro and onion- my garden
Radish - Barrington Farmers' Market
Other cooking ideas from the
From Asparagus to Zucchini
:
Try kohlrabi, thinly sliced, alone or with a dip. Peel kohlrabi and eat it like an apple.
Saute grated kohlrabi in butter; add herbs or curry for enhance flavor
Mash cooked kohlrabi, mix with cooked potato, form into patties, and fry in butter.
Steam kohlrabi whole 25-30 minutes or thinly sliced 5-10 minutes. Dress slices simply with oil, lemon juice, and fresh dill weed, or dip in flour and briefly fry.
Add sliced or cubed kohlrabi to hearty soups, stews, or a mixed vegetable stir-fry.