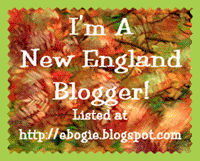 I'm part of a wonderful group of
New England Bloggers
over at
Thoughts from an Evil Overload
. We're' doing a New England mixer to encourage us to visit new blogs and explore all New England has to offer. I decided to
randomly
select five numbers and visit those corresponding blogs. Here's what I came up with:
10. Marie at
Boston Bibliophile
. Marie has done a wonderful job with her blog reviewing a whole bunch of books! It's a blog that I'll really need to sit down and dig through all the wonderful reviews and information. Take a look if you're looking for your next great read.
34. Janet at
House Peepers
. Janet is a realtor who loves interior home decorations. She writes about different home decorating ideas and shares pictures of beautiful homes. Go have a look for yourself!
48. Little Ms. Blogger at
A Little Blog About Nothing
. Well the blog is just what it says! While I wouldn't say it's about nothing, it's about all different topics, ideas, and thoughts. A very fun read when you're just looking for something random.
57. Rebecca at
My Crazy Life with 4 Kids
. Rebecca has a crazy enjoyable life tending to her four kids ages 3 thru 15. Her blog is fun to read and the stories she shares are hilarious sometimes! Check it out for a good laugh, a good story, or just to put a smile on your face.
106.
Vodka Logic
. Vodka Logic seems to be a very eccentric blog with lots of exciting blog topics. From her daughters crazy colored hair to throwing a matchbook at a waiter, you're sure to find some wildness here!
There you go...five random blogs from the
New England Bloggers
list. Don't forget, there's 101 more blogs to check out as well! Happy reading!