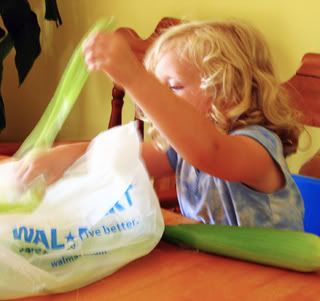 Give them ears of corn to shuck! Miss Lucy sat and shucked three ears of corn all by herself. I was able to get a whole batch of Verry Berry Muffins mixed and in the oven.

Now doesn't this batch of muffins look so much better? For the last batch I only had 1.5 cups of flour vs. 2 cups, so I tried my best to adjust the recipe. Somehow (seems I failed at "adjusting"), batch two
came out looking so much better! All the muffins went to the neighbors so I have to make another batch, aw shucks! :)

Honey, yogurt, blueberries; how can you go wrong? And look at the dough grabbing that one berry there. . . don't you really want to try them now? Yummy!